---
Cas Cremers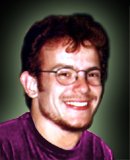 Date and place of birth
June 16th, 1974
Geleen
The Netherlands
E-mail: parallax@shape9.nl
http://cas.shape9.nl/


Who is he and what is he to Parallax?
As the founder of Parallax, Cas does all the coding, music writing, sound effects production, and the largest part of the game design and graphics. In practice this means everything that Patrick Smeets does not do, so you can imagine Cas is quite busy.
For more info you should check out this spot: http://cas.shape9.nl/

---