Core Dump - Work In Progress
---
Episode 10
Februari 17,1997: Futuredisk quicker than Parallax?
---
I've finally completed the level editor, and a load of work it was too! Supported by my girlfriend, Yen-Ha, I completed the in-game level editor by adding enemy-editing fuctions.
Because I've upped the size of the maps considerably, it became very impractical to enter all the enemy locations by hand. Also, by putting those locations in code you make it more difficult to change the location of a certain enemy a bit (e.g. if playtesting shows it's too hard/easy). In Akin, this is the main cause of the sparse alien community.
Setting this right, I made an enemy-edit mode inside the level editor. To test it, I constructed a very happy cloud level with cute enemies and a funny sunset. This seemed to work, and I think I'll put this level in the finished game as a bonus level. It doesn't fit in with the normal "eerie" graphics, so I'll have to make it secret/bonus like. Next weekend I'll grab some screenshots of the cloud level and put them here.
Oh yes, the Futuredisk had some interesting news...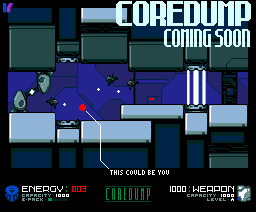 Pat never ceases to amaze me. Koen Dols, the head honcho at the Futuredisk asked Pat if we could give him a screenshot of Core Dump to put on the new issue of the disk. Pat, completely forgetting that I am supposed to design that stuff, "constructed" a screenshot for Koen Dols.
In effect, I now look at the Future Disk to see what I'm supposed to be making... strange world indeed. Oh well, never mind.
But remember: the only safe source for Parallax news is HERE!
While I'm at it, let me explain about this "so-called" screenshot. There's no main sprite. Nope. But that has a very good reason. Pat and I still haven't designed a really cool looking main sprite yet, and at the moment it looks like it's going to be a "super Ducane" but we're not sure yet. That explains. The information area that Pat has drawn at the bottom of the piccie looks kind of interesting (although the blue item on the left is really silly) so I might be using that in the real game.
One thing I constantly keep running out of is memory. The specs are 128kb MM ram, 128kb VRAM. But with all this data going into pure displaying techniques and maps, I was left wondering where to put the level editor. And the level editor, plus data, is also becoming larger every minute. Ho hum.
Things get messy this way. Check the Parallax pages frequently!